Nominate Someone Today!
Deadline is February 1, 2019.
Awards
Eligibility: Nominees must have been employed in the applicable category by a public safety agency or actively in Communications Training during the time for which they are nominated. Nominees do not have to be members of the Missouri Professional Training Partnership, Missouri APCO, Missouri NENA, or Missouri 9-1-1 Director's Association. 
Director of the Year– 

Director, Assistant Director, Executive Director, Deputy Director, PSAP Manager, Communication Center Director, Communications Director/Manager, Communications Administrator, Center Manager, Communications Chief, Public Safety Manager

Supervisor Nomination

 – Dispatch Supervisor, Shift Supervisor, Supervising Dispatcher, Supervisor, Shift Manager/Supervisor, Communications Supervisor, Communications Shift Supervisor, Operations Supervisor, Emergency Resource Supervisor, Telecommunications Supervisor, Senior Fire Communications Supervisor

George Major Trainer Nomination

– Plans, develops, schedules and conducts on the job and/or classroom training for 911 and public safety communications call takers, dispatchers and supervisors; evaluates trainees' skills and job performance; plans and/or develops advanced training for 911 public safety communications call takers, dispatchers and supervisors; assists with developing and enhancing trainees' professional knowledge, skill, and ability through in-service training or career development training.

Team Nomination

 

– This award is designed to honor two or more individuals from the same emergency communications agency that worked on the same incident or event.  Eligible candidates must have worked on the incident, project or event as a team and must all be employed by the same emergency communications agency.
Telecommunicator Nomination – Functions as a front line dispatcher or call taker for police, fire, and/or EMS agencies. Operates telecommunications equipment to receive emergency and non-emergency phone calls. Determines situations from callers and ascertains all required information for dispatch of a call. Relays information to a dispatcher (if a separate position) via CAD or manual dispatch cards.  Operates radio equipment to dispatch first responder units to request emergency services; receives radio traffic from first responders; monitors emergency and support radio frequencies.

Hero Nomination

– This award is designed to honor a youth whose courage and determination to obtain assistance for another person during a critical event went above and beyond all expectation.  The award winner will have shown exceptional calm while providing essential information for call takers and responders.  Must have initiated or been the primary contact with a Missouri communications center during the incident.

Information Technologist Nomination

– Systems Administrator, Information Technologist Specialist, Information Technologist, Network Administrator, Systems Engineer, Senior Computer Analyst, CAD/GIS Administrator, Network Services Supervisor, NCIC/CAD System Manager, Technician, 9-1-1 Systems, Information Technology Coordinator, Senior Project Manager, Records Technician (Master Addressing Guide – MSAG Coordinator), Mobile/CAD System Administrator, Information Technology Specialist 4, IT Tech and Address/Mapping Coordinator, Operations Support Technician, GIS Analyst, Radio Technologist.

Radio Technologist Nomination

– Radio Frequency Director , Electronics Communications Technician, Telecommunications Engineer, Communications Technician Supervisor, Senior Communications Technician, Radio Lead Technician, Radio Technician, Technical Systems Administrator, Radio Frequency Engineer, Communications Technician,  9-1-1 Systems Technician, Telecommunication Services Engineer, Radio Network Engineer, Radio Frequency Systems Engineer Manager
2018 Public Safety Communications Awards Winners
Radio Technologist of the Year – Brad Coffey
Missouri State Highway Patrol Communications Division
Brad's vast knowledge of communications from cell phones to tower sites and from portable radios to portable tower sites has made him an asset to the Missouri State Highway Patrol.  His strong work ethic is evident by his dedication to establishing and maintaining communications for public safety during natural disasters and inclement weather, civil unrest, and sporting events, and normal day-to-day operations.
Team of the Year – Jasper County Emergency Services
Kellie Balcom * Kelsie Talbert * Jim Langley (np)
As members of a team, they worked unselfishly to support each other while providing prompt and professional public service.  Together, this communications team worked as one, with a single goal in mind, saving a life.  On this night, the collaborative efforts of every spoke in the public safety wheel resulted in a successful rescue.  TS has praised the caller and all of her rescuers.  I am honored to work alongside these nominees.  To me, they are the epitome of the word HERO.
Supervisor of the Year – Andrea Kahn
Kansas City Police Department
Supervisor Khan, like everyone else in this business, has dealt with things that all of us find stressful in life that have nothing to do with our profession.  She continues to fulfill her responsibilities as a supervisor and to excel while doing so regardless of what life may have thrown at her outside of the center.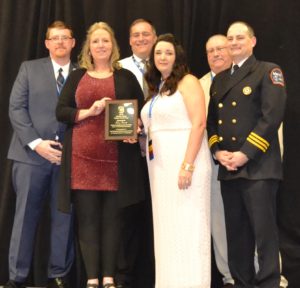 George Major Trainer of the Year – Kima Burnett
Jasper County Emergency Services
Kima strives to be give the best and always takes it to heart what she is doing and who she is doing it for.  She sets up a training environment at our center that others can excel in and wants that for every agency in the State and around the Nation.  She stays involved and engaged in what is happening around Missouri, not just around JASCO.  She is always reaching out to others, by creating surveys about the conference and making calls to get feedback just to see what people in our industry want or need.  She is very flexible and always willing to step outside the box to come up with new and innovative ways of doing her job and helping others with theirs.
Telecommunicator of the Year – Patricia Limbaugh
Missouri State Highway Patrol – Troop E
Operator Limbaugh exemplifies the core values of the Missouri State Highway by providing strong, compassionate and professional service to the citizens of Missouri.  Operator Limbaugh not only serves the private citizens of Missouri and the employees of the Missouri State Highway Patrol, she also unselfishly assists surrounding law enforcement agencies.  Patricia demonstrates a personal motivation to be successful in every challenge she encounters.  She is a professional and dependable communications operator and has an exemplary ability to perform well in stressful situations.  She works well both as a t
eam member and independently.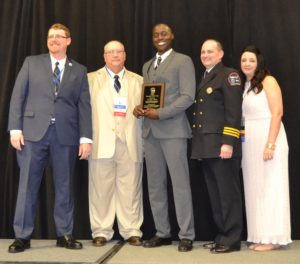 Director of the  Year – Kwabena Asante
Osage Beach Police Department
Kwabena challenges those who work for him.  He challenges them to be better.  To strive for perfection.  And one of his favorite sayings is to think outside the box.  He welcomes everyone ideas and will put them into practice when he can.  Personally he has challenged me this past year to step out of my comfort level.  We normally have 2 lead positions.  7 months of last year, and currently aof  this writing in Feb 2018, I was and am the only lead.  This was a daunting responsibility for me.  He just didn't assign me
more duties he took on even more responsibilities.  He also believed in me, gave me tools I needed and encouraged me to face the extra challenges.
2018 Hero Award – William Rebman (11yo)
Kansas City Fire
On the afternoon of Friday, April 21, 2017, eleven year-old William found his mother unconscious. While he wasn't sure, it seemed that she was not breathing. Although, William had spoken with his father regarding the situation, he took decisive action and dialed 9-1-1.  During his conversation with Kansas City Fire Department Communications Specialist Jessica Womack, William clearly and calmly described the nature of the emergency. He explained that his mother was unconscious in a chair and that he was alone with her. He stated the address of their home, even giving a description of the "big stone front porch" for first responders to look out for. William followed instructions and unlocked and opened the front door. With assistance and encouragement from CS Womack, William got his mother to the floor in preparation for administering CPR.  He assured CS Womack that he had CPR training as a Boy Scout. Just as William was beginning CPR, his father arrived and took over the chest compressions. William provided feedback and reminders to his father during the CPR. William remained on the phone until emergency medical services arrived. He provided vital personal and location information and interacted with emergency crews once they were on the scene.