First Time Submitter, Presenter or Speaker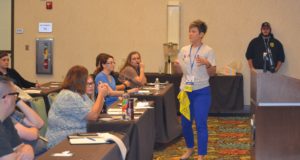 Are you interested in presenting at the MPSCC? If so there is a process of being selected. Several months prior to each conference, the MPSCC's Education Subcommittee opens a call for papers. During the length of the call, you're able to submit your session proposal. The information on this proposal will let the subcommittee know what type of training your session falls under, which attendees should attend, and much more. Be prepared, because you'll need to have some things ready before you submit your proposal.
Our proposal application requires some basic information about the course as well as photos and biographies for each speaker who will be part of the session. Photos should be of the individual speaking, be professional or work appropriate, and be of good resolution and size. Biographies must be under 100 words and should establish who you are, a brief history of your career in public safety, and something you'd like the attendees to know about you. Photos and biographies will be used on the conference mobile application, website, and for other promotional material.
Course descriptions are also required. Course descriptions should be under 100 words and convey why attendees should go to your session and what they should expect in your session.
Other required information includes: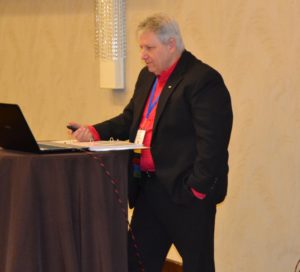 Session Title
Length of the session
Which day(s) of the conference you're available to present
What time of day you're available to present
Who the target audience demographic is
If the session is currently certified through
How many hours the session should be certified through
Which education unit your session should fall under (similar to POST)
Session Objectives
Who you are representing or speaking on be half of:

Yourself
Your agency
A for profit business

Presenter speaking experience 
Two speaking references
Presenter Information for each presenter

Presenter's Name
Presenter's Title
Presenter's Agency or Company
Mailing Address
Contact Number
Email Address
Biography
Photo
What happens after I submit the proposal?
Once submitted, you'll receive a copy of your submission. Once the call for papers end, the Subcommittee will do a final review of the proposals and make their selection.
You will be notified through email if your session is chosen or not.
Each speaker of a session chosen will also receive a Speaker Agreement. This agreement will give you the date, time and room location of your session. By signing the agreement, you are making a commitment to the MPSCC that you will present your session as indicated.
What should I expect the day I present?
You must check in at registration upon arrival. You will be provided with a name badge along with any additional items that come with your conference registration.
You will be provided a conference matrix or schedule of events. This matrix includes the room name and times of your session. You should be outside the door to your room no later than 15 minutes prior to your session.
Please remember you are required to provide your own computer. Once you take possession of the room, make sure your equipment is working. The Conference has volunteers that check in with each presenter before they begin. Should you have technical issues, please seek out a conference volunteer.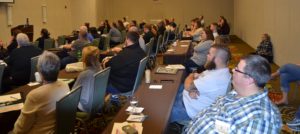 Class sizes vary based on session. During breakout sessions, you can expect anywhere from 5 to 100 people in your session.
Each session will run for 50 minutes per hour. This allows for a ten-minute stretch/bathroom break. Should you have a multi-hour session, you will break ten minutes to the hour.
Each session has a proctor. Proctors are volunteers who will introduce you, assist you with handouts and keep you on time. Proctors will give you a visual or verbal 10 and 5-minute warning before the end of your session or break time.
Should I bring anything?
Yes, bring yourself and a computer!
You can bring handouts and course materials, but you must print them yourselves. You may also request an attendance sheet in order to email your material out after the conference concludes.
Bring business cards in case someone wants to connect with you after the fact.
What should I expect after the conference?
Attendees are asked to complete critiques of each session. These critiques assist the Education Subcommittee in reviewing speakers and sessions for future conferences. After the conference is complete you'll receive a copy of your critiques.
If you have additional questions please email one of the MPSCC Education Subcommittee Chairs, Roger Martin or Angie Stiefermann.
Interested in speaking?
Use this form to make your proposal! The submission deadline is: 
January 15, 2022