Missouri Public Safety Communications Conference
March 3-6, 2024 | St. Louis, MO
The Missouri Public Safety Communications Conference (MPSCC) is a joint venture between the Missouri Chapter of the Association of Public Safety Communications Officials (Missouri APCO), the Missouri Chapter of the National Emergency Number Association (Missouri NENA) and the Missouri 9-1-1 Director's Association. Since 2015, our goal has been and continues to be to provide emergency communications professionals a place to network with their peers from across the state, browse emerging technology and engage with companies that provide the technology critical to our profession, and provide timely and pertinent training to all levels of emergency communication personnel. 
It is my first year dispatching as well as my first conference, and it was a pleasant surprise how extensive the dispatching community really is! It was a time of learning as much as it was a moment of community.
As a new Director, the MPSCC has been a valuable tool. Not only in the courses they offer, but with the networking that I can't access with any other platform. Having the ability to build relationships with peers from across the state has benefited me time and time again!
Something new every time!
As a young and new Director, it's been helpful to learn new ways to train, lead and manage dispatchers in the best way possible.
The opportunity to connect with others throughout our amazing profession is one of the best reasons to attend!
Learning from folks who do what you do and have experienced the things that you have creates a sense of comradery that can't be matched anywhere else!
MPSCC is not just about learning and training but about building community through dispatch. By connecting with other 9-1-1 professionals, I realized I'm not alone in the challenges I've faced in the emergency communications center, and with my new connections I feel better able to change the industry for the better.
The MPSCC conference has been a staple in BusComm Incorporated's must attend conferences for many years. MPSCC puts on an excellent conference for the vendors to be able to network with both current and future clients. MPSCC has gone to great lengths to ensure there is a large amount of vendor time as well as educational and informative classes for all who attend. As a past 9-1-1 PSAP director, past president of the 9-1-1 Directors Organization and now on the "Dark Side" as the Vice President of BusComm, this is truly one event I look forward to yearly. MPSCC is a great opportunity to not only see old friends and make new ones but, to also stay informed with all the 9-1-1 efforts happening throughout the state of Missouri. Keep up the great work!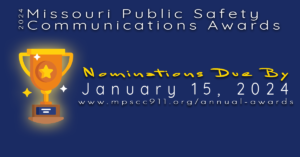 Awards
Each spring, members of the Missouri public safety communications profession honor their peers during the annual Missouri Public Safety Communications Awards Program
Read More »

Speakers
The MPSCC is seeking speakers to teach essential skills, grow our peers and inspire current and future leaders of Missouri's Emergency Communications Profession!
Read More »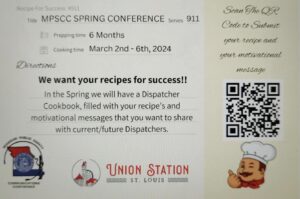 Attendee
Recipe for Success is our theme for the Spring 2024 conference in St. Louis, and we need your help! We're going to take user submitted recipes and motivational messages to design and publish a cookbook that will be available at the conference!
Read More »
Spring 2023 By The Numbers!
Sessions include meetings. Demographic information based on registration data.
These dates are tentative and subject to change until the final contract with the venue is signed.
Spring 2024

March 2nd - 6th, 2024

Union Station in St. Louis

Spring 2025

March 8th -12th, 2025

Margaritaville Lake Resort